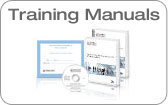 Check Point training material provides essential product and IT Security knowledge for serious students who want to keep up with technology or pursue Certification. Training kits include a training manual, detailed lab exercises.
The core training material is the Security Administration and Security Engineering kits. Please contact your Check Point reseller to purchase a kit.
(*) Check Point Training kits are specifically designed for classroom (real life or virtual) delivered training from an Authorized Training Center (ATC) Partner.